Home
Guitars
Percussion
Accessories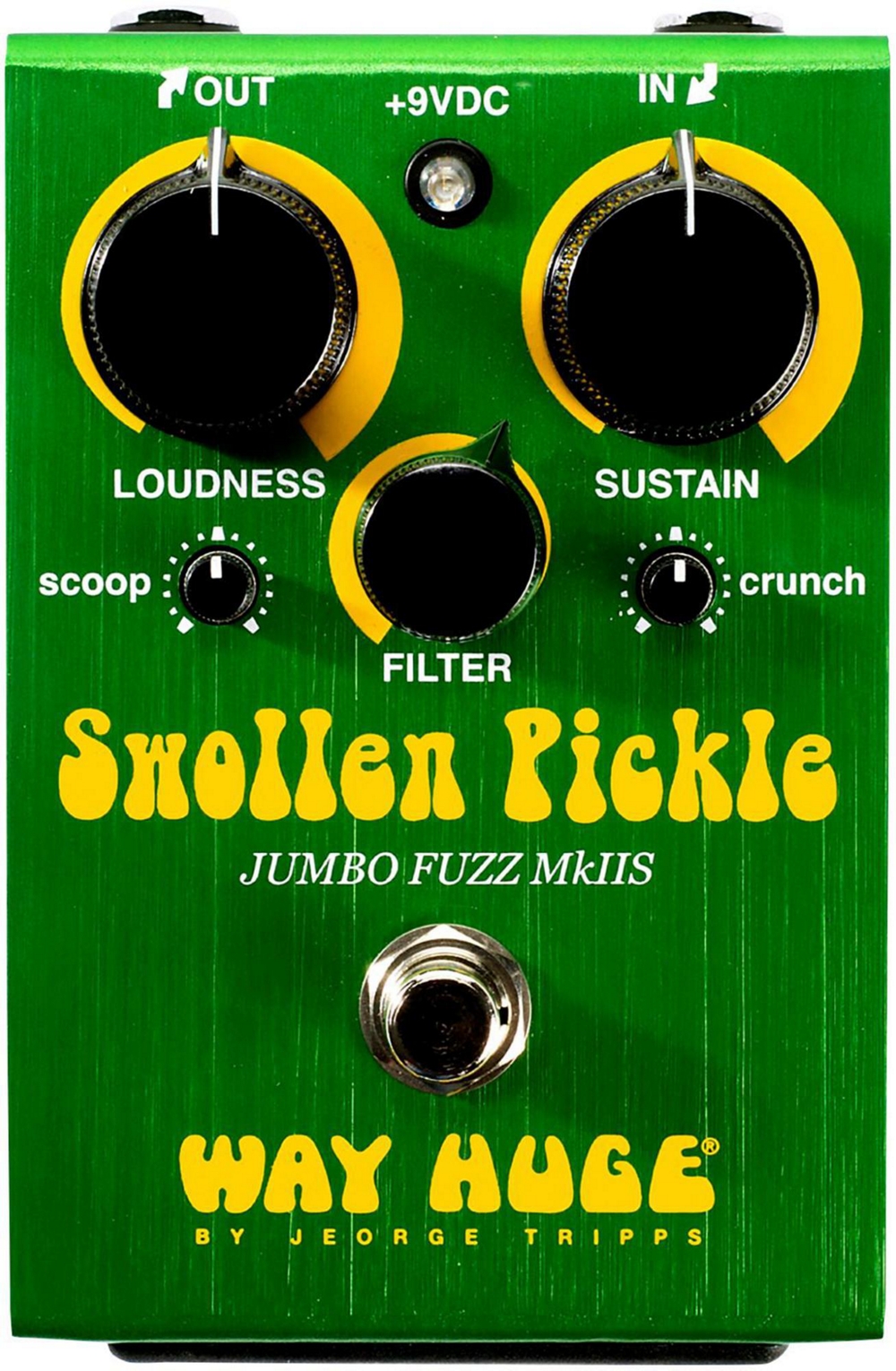 Way Huge Electronics Swollen Pickle Jumbo Fuzz MkIIS Guitar Effects Pedal
item# 1500000006747
New
The Swollen Pickle Jumbo Fuzz MkIIS serves up the same burly high gain fuzz as the full-sized MkII but in a more petite package. With a twist of the Sustain control, you're taken from mild crunch to Armageddon. The Filter control retains its trademark insane range of heavily bandpass-filtered tones, distinguished by remarkable girth and sizzle, and the Loudness puts out enough volume to clobber any amp. The Scoop tone stack control elicits classic Swollen Pickle mid-scoop or a flat mid-frequency sweep, and the Crunch knob adjusts the compression intensity of the fuzz. Finally, under the hood, the MkIIS has two internal mini controls: Voice sets the intensity of the external scoop control from light to heavy mid cut, and Clip varies between two sets of clipping diodes for smooth or opened fuzz sustain.
Shipping
Orders are generally shipped the following business day after payment is received. For example, if your order is placed AND paid for at 1 p.m. Eastern Time on Friday, Musicians Friend will ship it on Monday. We are only shipping eBay orders via standard ground shipping at this time (3-7 business days for delivery once the item leaves our warehouse)
Payment
Musician's Friend only accepts payments for eBay orders through Paypal. Immediate payment is required upon selecting "Buy It Now".
Sales Tax
Sales Tax - We are required to collect sales tax on all orders shipped to California, Indiana, Missouri, & Utah. If you are shipping item to any one of these states, you will be charged the local sales tax rates.Colorado, Oklahoma, South Dakota & Vermont Residents: Musician's Friend is not obligated to, and does not, collect sales tax in your state. Your purchase is subject to sales/use tax in these states unless it is specifically exempt from taxation. The purchase is not exempt merely because it is made over the Internet or by other remote means. These states require that you file a sales/use tax return at the end of the year reporting all of the purchases that were not taxed on those purchases. Retailers that do not collect sales tax in these states are obligated to provide purchasers an end-of-year summary of purchases in order to assist them in filing their tax report. Retailers that do not collect sales tax in these states may be required by law to provide the Department of Revenue with an annual report of the total amount of all of your purchases above certain thresholds. Details on how to file this return may be found at your applicable Department of Revenue website.
Store Policies
If you're not satisfied, neither are we. If for any reason you're not completely satisfied with your purchase of a new item, simply return it in its original condition within 45 days of purchase (see exceptions below) and we'll give you a full refund. It's that simple. Returned items must be in original, brand-new condition, showing no signs of wear or use such as belt-buckle or pick scratches, scuffs, dings or scrapes on the instrument or collateral materials. Items must also include all original packaging, manuals, warrantees and accessories or your return may be subject to a return handling charge.
Your refund will be promptly processed upon successful evaluation of your returned item from our trained category professionals in 2-3 business days. Refunds are made for product value only, excluding shipping and handling charges. If you received Free Shipping on your order, the value of the uncharged shipping cost will be deducted from your refund.
Exceptions
Additionally, the following items are returnable only if defective OR unopened - strings, reeds, computers, tubes, earbuds, earplugs, recorders, tin whistles, flutophones, "world" wind instruments, harmonicas, raw-frame speakers, drumheads, drumsticks, turntable cartridges, fog fluid, clothing/footwear, body jewelry, sheet music, cleaners, polishes and polishing cloths. Software/soundware, books, CDs, DVDs, and videos may be returned for credit only if they are in their original, sealed packaging. All returned woodwind and brass instruments incur a $10.00 sanitization fee. Returned bows are assessed a $4.00 restocking fee. Returned mouthpieces priced over $300 incur an $8.00 sanitization fee; the fee for mouthpieces under $300 is $4.00. Stringed instruments priced at $1999.00 or more, must be returned within 10 days of shipment.
Should you decide to return your shipment, please follow the return steps printed on the back of your invoice and pack your return carefully to prevent damage in shipment. All returns must:
1. Include a Return Authorization Number; (Please contact us via eBay messages for an RA number)
2. Be in the original packaging complete with all collateral materials such as cases, straps, cables, care kits, certificates of authenticity, warranty cards, manuals, and any other materials that originally shipped with the instrument;
3. Be in brand-new condition, showing no signs of wear or use such as belt-buckle or pick scratches, scuffs, dings, or scrapes on the instrument or collateral materials.

Price: $129.99

---
http://guitarandpedal.com/wp-content/uploads/2018/07/350x75-4.jpg
75
350
admin
http://guitarandpedal.com/wp-content/uploads/2018/01/guitarandpedal-logo-1.png
admin
2018-07-12 21:16:01
2018-07-12 21:53:37
Way Huge Electronics Swollen Pickle Jumbo Fuzz MkIIS Guitar Effects Pedal