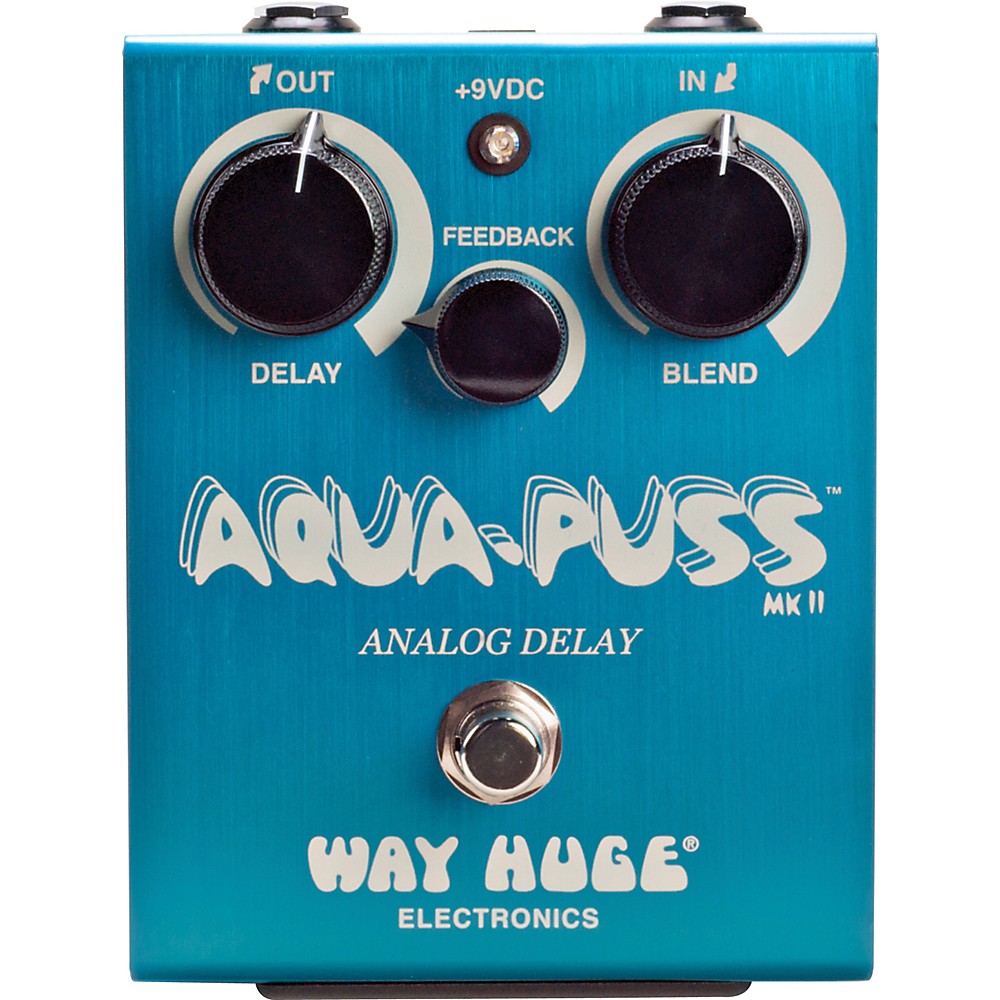 Aqua-Puss MkII Analog Delay Guitar Effects Pedalitem# 423709004000000
The Way Huge Electronics Aqua-Puss MkII Analog Delay pedal offers bold analog and tape delay echo.Over the years, the Way Huge Aqua-Puss received tremendous praise for its outstanding tone, but because of its scarcity, the cost of finding a used pedal went soaring. Once you hear this reissue, you will know exactly what all the fuss was about.One twist of the Aqua-Puss pedal's Delay knob takes you from a tight 20ms delay to a cavernous 300ms. The Feedback control regulates delay duration and intensity. But watch out. Extreme settings can send the Aqua-Puss MkII into self-oscillating psycho-freak-out mode. Meanwhile the Blend knob lets you set a balance between dry and delayed signal-from mild to wild. The Aqua-Puss MkII delivers all the spooky mystery of vintage analog delay and tape-based echo, with none of the hassle of creaky, ancient gear. This reissued pedal features delay, feedback and blend knobs, just like the original.Professional guitarists across the globe have long revered the amazing tone the Aqua-Puss delay puts out. From Oasis' Noel Gallagher to John Mayer, this pedal has been a staple to their unique guitar tones. It delivers a warm, vintage analog delay that is truly sublime and rich. Now it returns to make a glorious appearance in your pedal board, offered at a price that any tone junkie can enjoy.**..Mint Condition..**
This instrument or product has been played/used and is in virtually new condition; however its packaging may not meet the standards set by the factory. Also, it no longer carries the manufacturer's warranty. If you're looking for a virtually new instrument in possibly less-than-perfect packaging, this is a great value. We feel so strongly that you'll like what you see, we're including our 30-Day Satisfaction Guarantee to this used product, making it a no-risk purchase.
Price: $131.99

---
http://guitarandpedal.com/wp-content/uploads/2018/06/header1-c-7.jpg
165
1000
admin
http://guitarandpedal.com/wp-content/uploads/2018/01/guitarandpedal-logo-1.png
admin
2018-06-22 21:36:06
2018-06-22 21:57:15
Way Huge Electronics Aqua-Puss MkII Analog Delay Guitar Effects Pedal LN