Way Huge WHE401S Swollen Pickle Jumbo Fuzz MkIIs Pedal Bundle
The Swollen Pickle Jumbo Fuzz MkIIS serves up the same burly high gain fuzz as the full-sized MkII but in a more petite package. With a twist of the Sustain control, youre taken from mild crunch to Armageddon! The Filter control retains its trademark insane range of heavily bandpass-filtered tones, distinguished by remarkable girth and sizzle, and the Loudness puts out enough volume to clobber any amp! The Scoop tone stack control elicits classic Swollen Pickle mid-scoop or a flat mid-frequency sweep, and the Crunch knob adjusts the compression intensity of the fuzz. Finally, under the hood, the MkIIS has two internal mini controls: Voice sets the intensity of the external scoop control from light to heavy mid cut, and Clip varies between two sets of clipping diodes for smooth or opened fuzz sustain.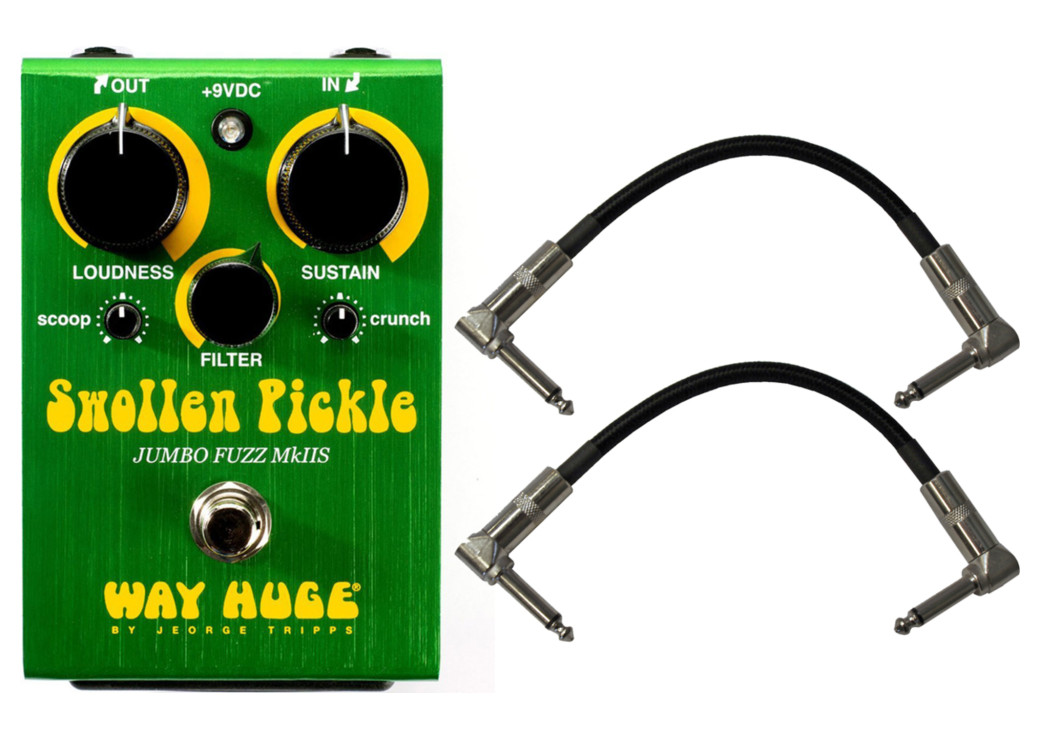 Return PolicyAt GearTree, we want you to be 100% satisfied with your shopping experience and your gear. If you are not satisfied with your purchase, we allow you the option to return most eBay auction items for refund or exchange within 30 days of purchase.
In the event that an item is damaged or defective, we will provide a prepaid Electronic Return Label to enable return. If the item is returned for any reason other than damage or defect, return shipping and initial shipping costs (given at time of request) will be applied. Refunds on auctions are subject to a 15% restocking fee. In certain instances, where an item shows wear or product packaging is missing or destroyed, a restocking fee may be applied.
When returning a product, please follow the return instructions we give you carefully to help avoid restocking fees. Used gear and other items are not returnable for health, copyright or other reasons. Returns must include all original items and packaging.
Call us at 800-705-7095 if you need further assistance.
State sales tax will apply on all orders shipping to MI only.
Interested in Great Deals?Sign up for the GearTree Deals News email newsletter. You will receive occasional emails regarding special insider product deals and industry news. Go to geartree.com and hit "Join Newsletter" at the righthand side of the blue taskbar.
Price: $129.99

---
http://guitarandpedal.com/wp-content/uploads/2018/01/geartree_logo_svg-1.png
107
400
admin
http://guitarandpedal.com/wp-content/uploads/2018/01/guitarandpedal-logo-1.png
admin
2018-01-30 15:08:21
2018-01-30 15:59:08
Way Huge by Dunlop WHE401S Swollen Pickle MKIIS Jumbo Fuzz Pedal Bundle